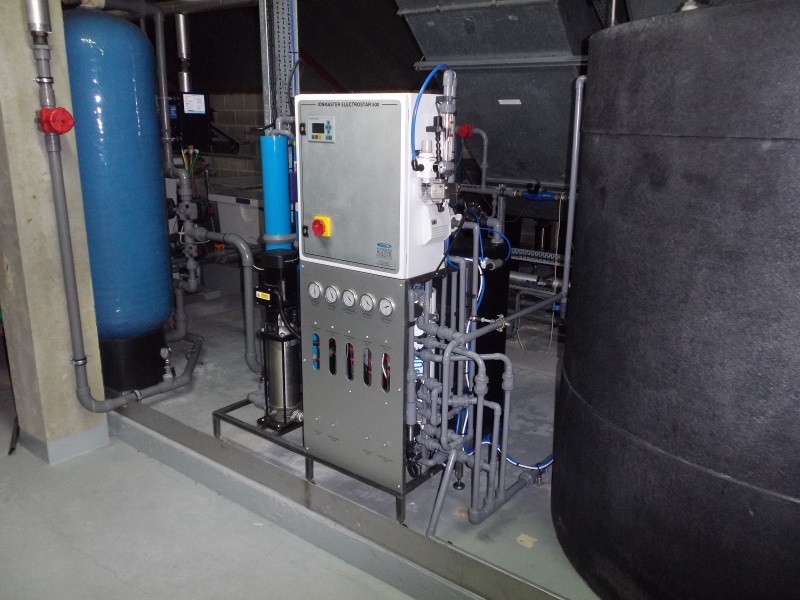 When looking for operating cost saving and improved purified water quality, Sharp Laboratories of Europe set Wychwood Water systems the challenge to provide these solutions.
The existing purified water system relied on an old high energy twin pass reverse osmosis unit followed by mixed bed cartridge deionising cylinders to polish the RO permeate to the required purified water quality.
Within the feed water pre treatment chain a pump was left to run 24 x 7, for long periods pushing against a closed head and bleeding back through a spill back valve into a tank. In addition to electrical energy consumption this continually operating pump was also causing problems with waste heat generated within the pre treated water.
The old twin pass Reverse Osmosis unit was removed from the system and replaced with a new Wychwood Water Systems ELECTROSTAR 500 combination reverse osmosis and continuous electro Deioniser system.
The ELECTROSTAR 500 unit is now producing >10 megohm purified water into the system purified water tank. Further to this, when the treated water tank is full the ELECTROSTAR changes in to polish mode and a proportion of the returning ring main purified water is passed through the Continuous Electro Deioniser. This is providing >17 megohm purified water back into the purified water tank.
This system function will provide Sharp Laboratories of Europe with a further cost saving as the duty on the polishing Deioniser cylinders is now drastically reduced.
Within the RO section of the ELECTROSTAR 500, XLE low energy thin film composite Reverse Osmosis membranes are used. Because of the significant decrease in feed pressure these membranes require, a reduction in RO pump energy and the subsequent electrical energy cost saving is made.
In turning to the continual operating pre treatment pump, this was replaced with a new Grundfos CRIE inverter driven pump. This pump now only operates as required and in addition varies its output to achieve the optimum flow and pressure required. In addition to the elec trical energy cost saving, this has also resolved the hot water problem after long periods of no water consumption.
The whole project was completed in the minimum of time and purified water was maintained to the user points of use at all times.