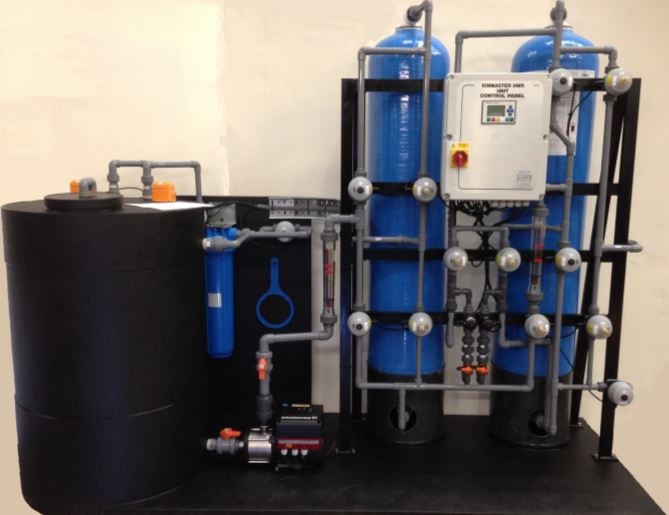 The IONMASTER HMR system is a cost-effective selective deionisation unit that actively removes heavy metals in a variety of applications. Waste water created from metal working and electroplating contains heavy metals which have to be removed using the proper equipment. Quality standards can be maintained by regulating the amount of dissolved solids and heavy metals in water with Wychwood's HMR unit.
For large facilities with high production output, the cost to treat and discharge waste water can be significant. Wychwood's HMR system employs selective ion exchange that separates heavy metals from water to achieve acceptable levels, so that water can be reused.
Selective Resins
The HMR includes resins with high selectivity for metal ions, including zinc, nickel and copper. These metal ions are absorbed by the resin until capacity has been reached. Following this stage, regeneration of the resin will be necessary. Your HMR resin beds will require regeneration at a frequency of one to two weeks, depending on usage volume.
Benefits of The HMR Unit From Wychwood Water
The HMR unit is capable removing nickel, zinc and copper from waste water simultaneously. Depending on your requirements, the HMR can treat waste water on an intermittent or continual basis. The unit is easy to use and maintain, avoiding unnecessary disruption to your manufacturing process. The regeneration of the specialist chelate resins used is quite complicated and exacting. To achieve this the IONMASTER HMR has a substantial manifold of individual pneumatically operated diaphragm valves and a PLC based low voltage control system.
To protect the resins from excessive fouling the HMR system also has an activated carbon stage before the resins.
Contact Wychwood Water for More Information
Our team at Wychwood Water have the knowledge to help you choose the best water treatment option for your facility. Whether you require more information about the HMR system or are interested in the features and benefits of the many other water treatment systems we sell, our team can help.
We also offer training for your maintenance and operations staff for the HMR and all of our other branded products. Our seminars provide full information about how to use each system to its full potential. Contact sales@wychwood-water.com to find out more about our HMR and other water treatment solutions.